Patient monitor can dynamically reflect the changes of the patient's heart rate, pulse, blood pressure, respiration, blood oxygen saturation and other parameters, and is a good helper to assist medical personnel to understand the patient's situation. But many patients and their families do not understand, often have questions or nervous emotions, and now we can finally understand together.
01  Components of ECG monitor
Patient monitor is composed of main screen, blood pressure measurement lead (connected to cuff), blood oxygen measurement lead (connected to blood oxygen clip), electrocardiogram measurement lead (connected to electrode sheet), temperature measurement lead and power plug.
The patient monitor main screen can be divided into 5 areas:
1) Basic information area, including date, time, bed number, alarm information, etc.
2) Function adjustment area, mainly used for the modulation of ECG monitoring, this area is used by medical staff, patients and family members can not change at will.
3) Power switch, power indicator;
4) Waveform area, according to the vital signs and draw the generated waveform diagram, can directly reflect the dynamic fluctuations of vital signs;
5) Parameter area: display area of vital signs such as heart rate, blood pressure, respiratory rate and blood oxygen.
Next, let's understand the parameter area, which is also the most important thing for our patients and their families to understand the "vital signs" of patients.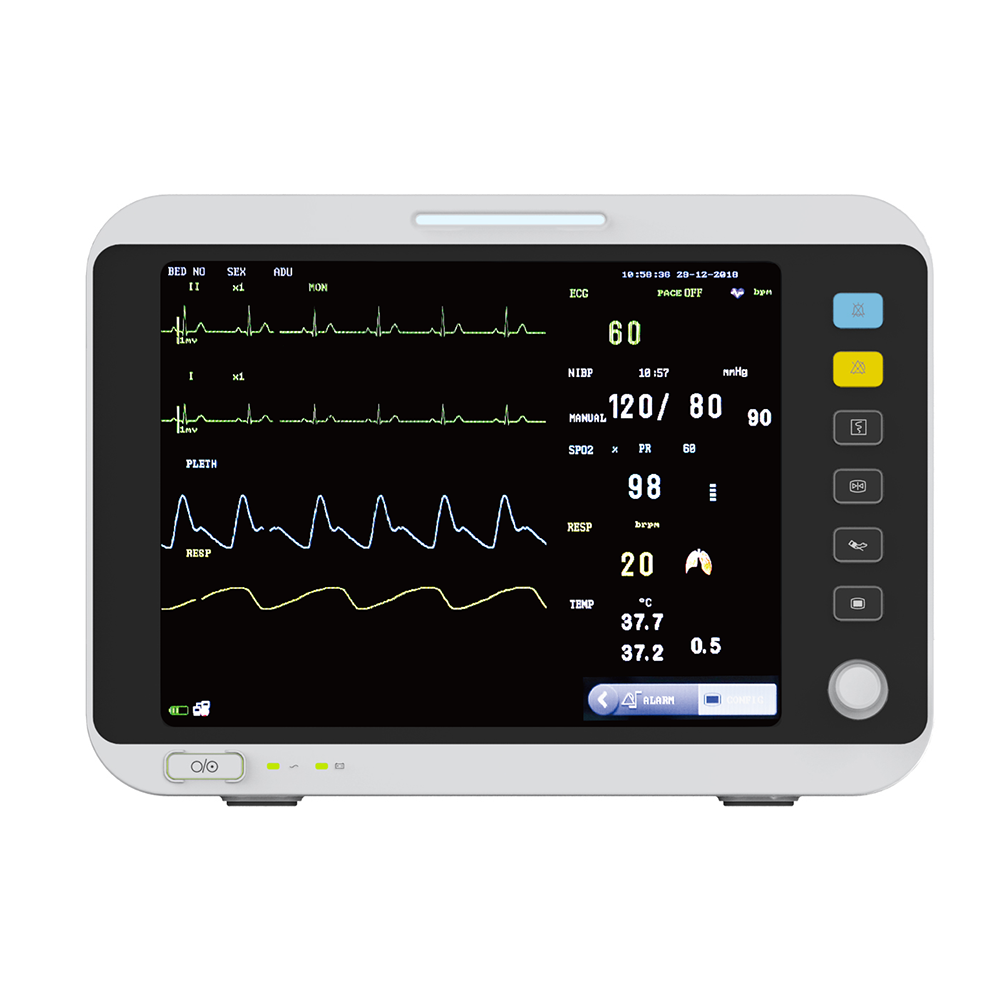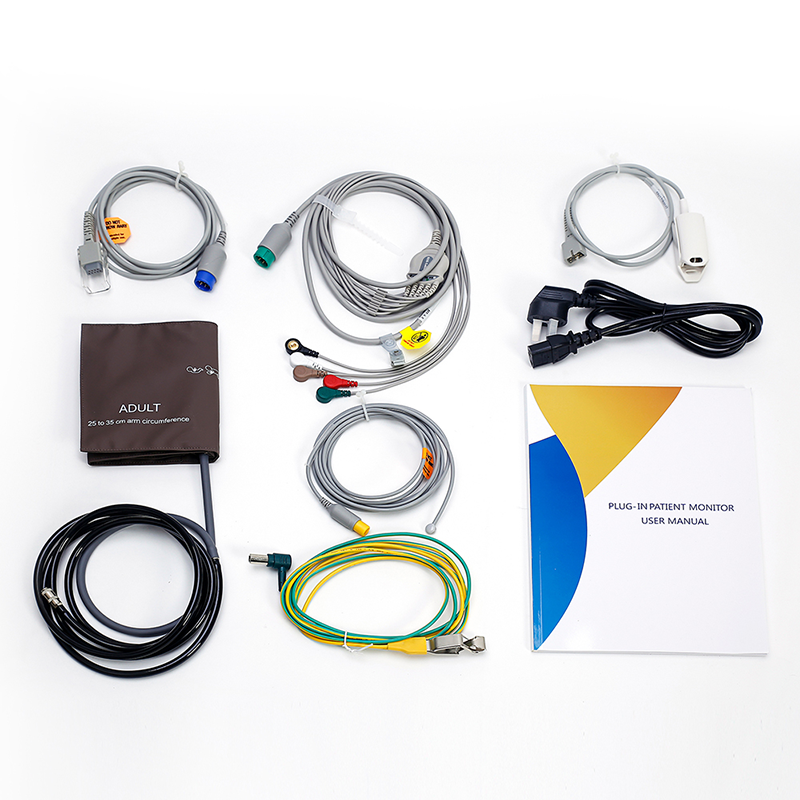 02  Parameter area ---- patient's vital signs
Vital signs, a medical term, include: body temperature, pulse, respiration, blood pressure, blood oxygen. On the ECG monitor, we can intuitively understand the patient's vital signs.
Here we will take you through the same patient's case.
Watching the most prominent values, at this time the patient's vital signs are: heart rate: 83 beats/min, blood oxygen saturation: 100%, breathing: 25 beats/min, blood pressure: 96/70mmHg.
Observant friends may be able to tell
Generally, the value on the right side of the ECG that we are familiar with is our heart rate, and a water waveform is our blood oxygen saturation and breathing, the normal range of blood oxygen saturation is 95-100%, and the normal range of breathing is 16-20 times/min. The two are very different and can be directly judged. In addition, blood pressure is generally divided into systolic and diastolic blood pressure, often two values appear side by side, systolic blood pressure in the front, diastolic blood pressure in the back.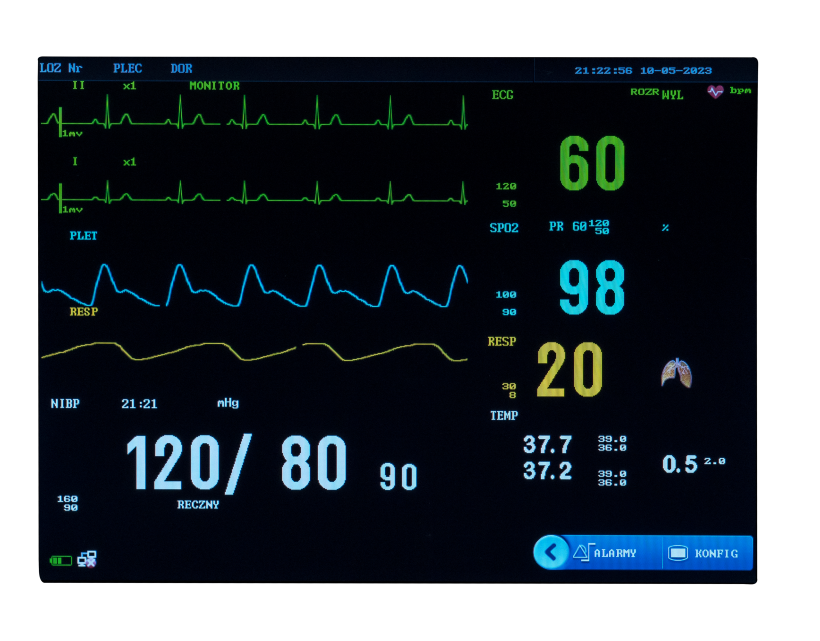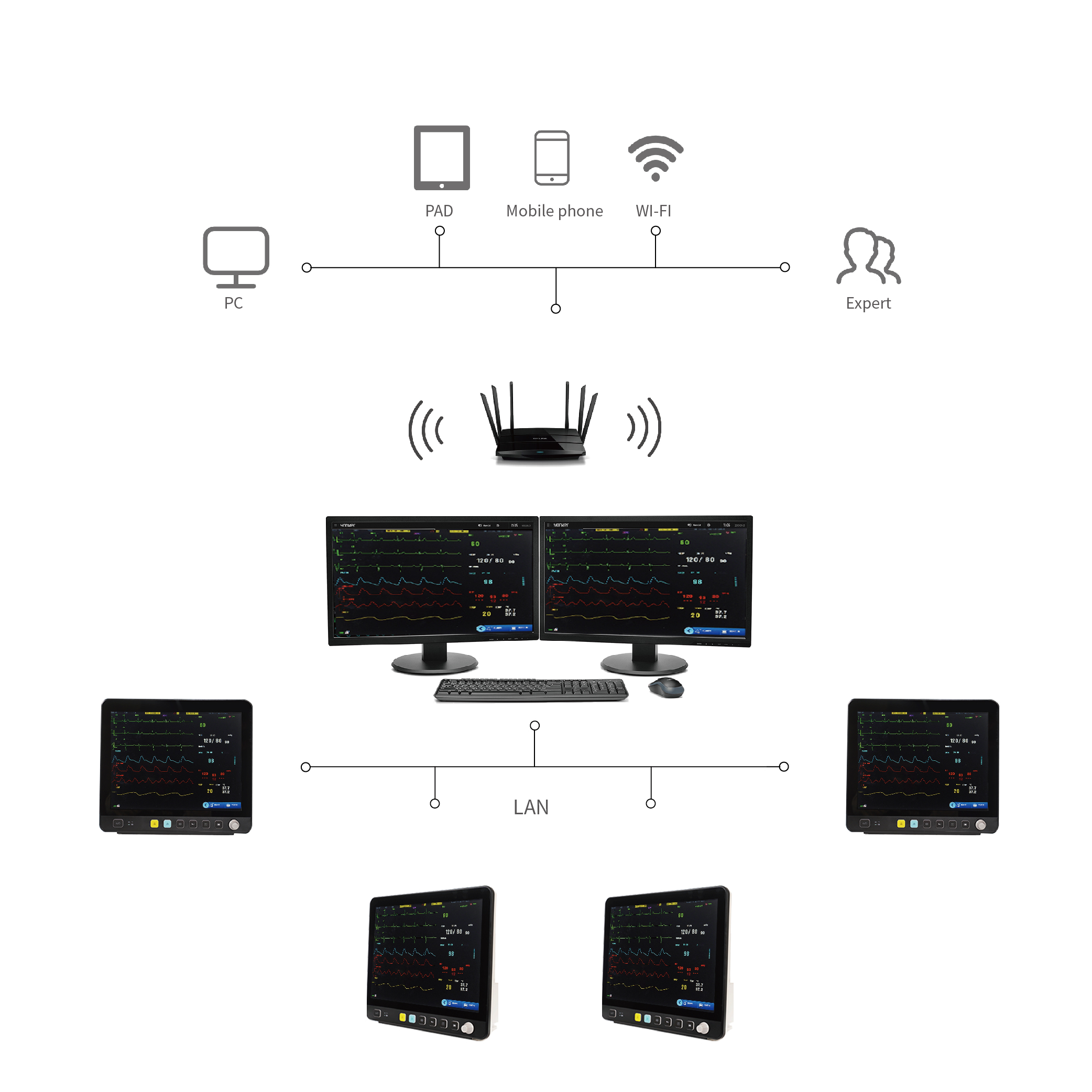 03  Precautions for the use of patient monitor
Through the understanding of the previous step, we can already distinguish what the value represented on the monitoring instrument means. Now let's understand what these numbers mean.
Heart rate
Heart rate - represents the number of times the heart beats per minute.
The normal value for adults is: 60-100 times/min.
Heart rate < 60 beats/min, normal physiological conditions are common in athletes, the elderly and so on; Abnormal cases are commonly seen in hypothyroidism, cardiovascular disease, and near-death state.
Heart rate > 100 beats/min, normal physiological conditions are often seen in exercise, excitement, stress state, abnormal conditions are often seen in fever, early shock, cardiovascular disease, hyperthyroidism, etc.
Blood oxygen saturation
Oxygen saturation - the concentration of oxygen in the blood - is used to determine whether you are hypoxic or not. The normal value of blood oxygen is: 95%-100%.
Decreased oxygen saturation is commonly seen in airway obstruction, respiratory diseases and other causes of dyspnea, respiratory failure.
Respiratory rate
Respiratory rate - represents the number of breaths per minute the normal value for adults is: 16-20 breaths per minute.
Breathing < 12 times/min is called bradyapnea, which is commonly seen in increased intracranial pressure, barbiturate poisoning and near-death state.
Breathing > 24 times/min, called hyperrespiration, commonly seen in fever, pain, hyperthyroidism and so on.
* The respiratory monitoring module of the ECG monitor often interferes with the display due to the movement of the patient or other reasons, and should be subject to manual respiration measurement.
Blood pressure
Blood pressure - Normal blood pressure for adults is systolic: 90-139mmHg, diastolic: 60-89mmHg. Blood pressure reduction, normal physiological conditions in sleep, high temperature environment, etc., abnormal conditions are common: hemorrhagic shock, near-death state.
Increased blood pressure, normal physiological conditions are seen: after exercise, excitement, abnormal conditions are seen in hypertension, cerebrovascular diseases;
There are many factors that affect the measurement accuracy of the ECG monitor, and the relevant precautions will be detailed below.
---
Post time: Aug-14-2023