With the improvement of living standards, people pay more and more attention to health. Monitoring their health at any time has become a habit of some people, and buying a variety of household medical devices has also become a fashionable way of health.
1. Pulse Oximeter:
Pulse oximeter uses photoelectric blood oxygen detection technology combined with volumetric pulse tracing technology, which can detect the person's SpO2 and pulse through the fingers. This product is suitable for families, hospitals, oxygen bars, community medicine, and sports health care (can be used before and after exercise, not recommended during exercise) and other areas.
2. Blood pressure monitor:
Arm blood pressure monitor: the measurement method is similar to the traditional mercury sphygmomanometer, measuring the brachial artery, because its armband is placed on the upper arm, its measurement stability is better than that of the wrist sphygmomanometer, more suitable for patients with older age, uneven heart rate, diabetes caused by peripheral vascular aging and so on.
Wrist type blood pressure monitor: The advantage is that continuous manometry can be achieved and is easy to carry, but because the measured pressure value is the "pulse pressure value" of the carpal artery, it is not suitable for the elderly, especially those with high blood viscosity, poor microcirculation, and patients with arteriosclerosis.
3. Electronic Infrared Thermometer:
The electronic infrared thermometer consists of a temperature sensor, a liquid crystal display, a coin cell battery, an as-applied integrated circuit and other electronic components. It can quickly and accurately measure human body temperature, compared with the traditional mercury glass thermometer, with convenient reading, short measurement time, high measurement accuracy, can remember and have the advantages of automatic prompts, especially the electronic thermometer does not contain mercury, harmless to the human body and the surrounding environment, especially suitable for home, hospital and other occasions to use.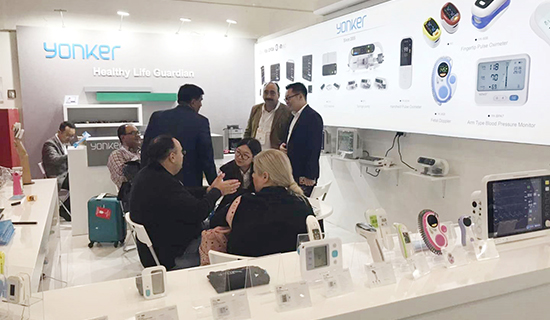 4. Nebulizer:
Portable nebulizers use high-speed air flow formed by compressed air to drive liquid drugs to spray onto the septum, and the drugs become foggy particles under high-speed impact, and then spew out from the fog outlet for inhalation. Because the drug mist particles are fine, it is easy to penetrate deep into the lungs and branch capillaries through breathing, and the dosage is small, which is suitable for direct absorption by the human body and suitable for family use.
5. Oxygen Concentrator:
Domestic oxygen concentrator utilize molecular sieves for physical adsorption and desorption techniques. The oxygenerator is filled with molecular sieves, which can adsorb nitrogen in the air when pressurized, and the remaining unabsorbed oxygen is collected, and after purification, it becomes high-purity oxygen. The molecular sieve will discharge the adsorbed nitrogen back into the ambient air when decompressing, and the nitrogen can be adsorbed and oxygen can be obtained at the next pressurization, the whole process is a periodic dynamic circulation process, and the molecular sieve is not consumed.
6. Fetal Doppler:
Fetal doppler using Doppler principle design, is a handheld fetal heart rate detection equipment, fetal heart rate numerical liquid crystal display, simple and convenient operation, suitable for hospital obstetrics, clinics and pregnant women at home for daily fetal heart rate testing, in order to achieve early monitoring, care for the purpose of life.
---
Post time: Jul-08-2022